From January 1, 2021, everyone flying in 'open' or 'specific' category must register as UAS operator on flydrone.no. The only exceptions are if you are flying a drone that weighs less than 250 grams and has no camera, or a drone that is CE-marked as a toy. Previously registered RO1, RO2 or RO3 operators have to register before the new basis regulation enters into force in Norway, which is expected in the first half of 2021.
How to register as a UAS operator
Go to flydrone.no. Select "private person" if you are flying for yourself, for either recreational or commercial purposes. As a private person, you are both a remote pilot and a UAS operator. You will first pay the registration fee and then get access to the online course and A1/A3 online exam. You can log in later on "My Page" to see your registration number, download your proof of completion of the online training, and access information on expiry dates and payments.
As an organisation (including sole proprietorships), select "Organisation or company" to register the organisation as a drone operator. Remote pilots flying for the organisation need to log in separately to take the online course and exam and connect to an organisation.
The registration fee is 180 kroner per year. Your registration number is valid in all EU countries, Iceland, Liechtenstein and Switzerland. Operators shall register in their home country (for private persons) or the country of their principal place of business (organisations).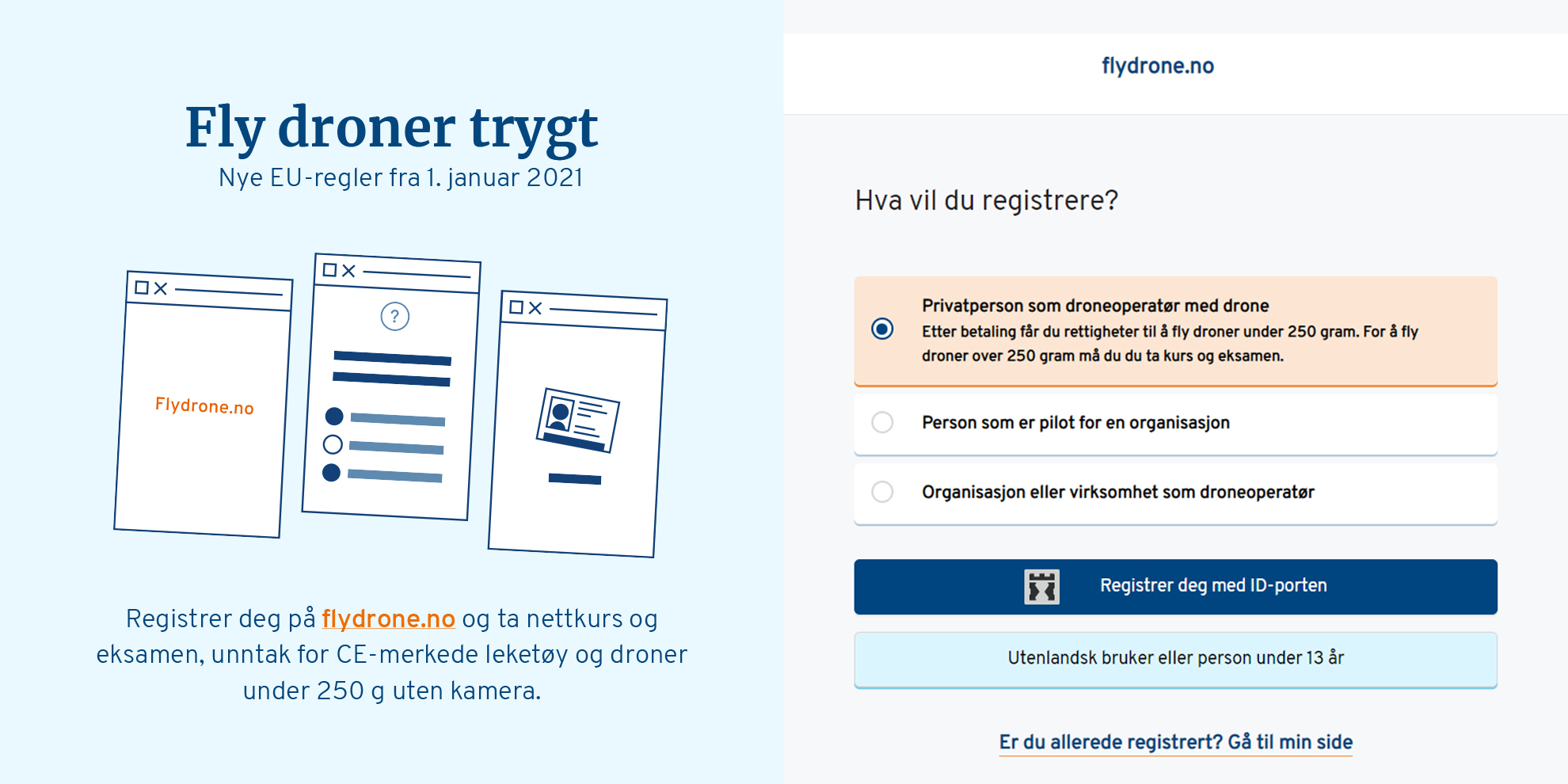 Remember
Everyone flying a drone weighing 250 grams or more must take the online course and exam. You can do that on flydrone.no. The courses and the A1/A3 exam are free. For organisations, the pilot(s) log in separately to take the exam and connect to the organization.
All drones other than CE-marked toys must be insured in accordance with (EC) No 758/2004. That means you need to have third-party liability insurance covering at least 0.75 million SDRs (ca. 9.2 million NOK per 31.12.2020).