Norway - a European arena for electric aviation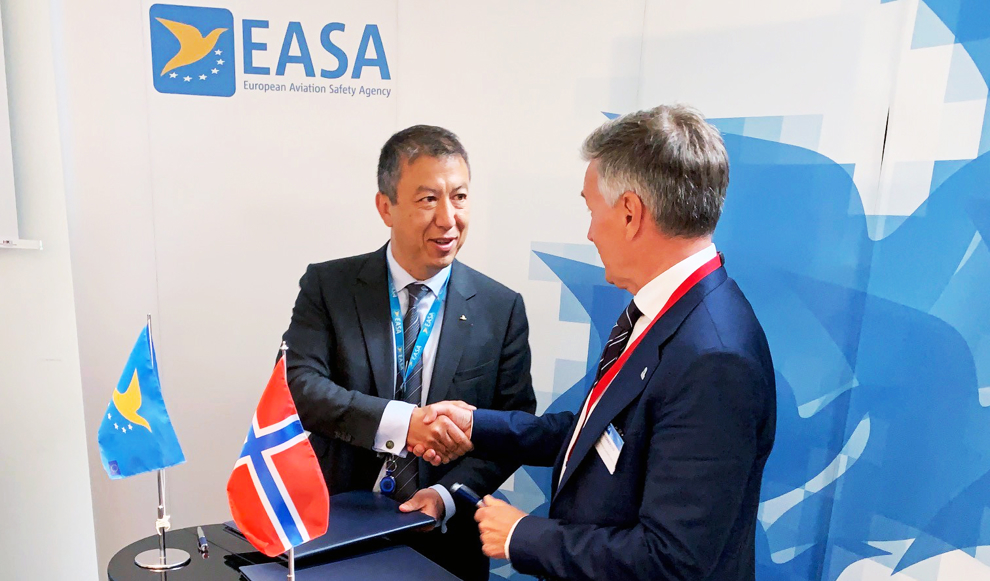 EASAs Executive Director Patrick Ky and CAA Norways General Director Lars Kobberstad signed a binding agreement which will accelerate work on electrifying aviation
CAA Norway and EU aviation safety agency (EASA) have concluded a binding agreement which will accelerate work on electrifying aviation.
"We see this as a key step towards success in our express national objective of converting to low and nil emissions in aviation. Our perception is that EASA is very committed to this bilateral joint venture and that Norway can become a key player in the development. The ambitions for the project also include widening its scope to include other nations who have the same vision," says Lars Kobberstad, General Director of CAA Norway.
Speeding up
The main aim of the agreement is to speed up the work of electrifying aviation. Norway, with its well-developed regional network, is seen as the ideal area for investing in electric aircraft. Norwegian administrative authorities, aviation companies and the market generally are all very keen to develop future-oriented solutions.
General Director of the Norwegian CAA, Lars Kobberstad
"There is already a lot of activity in this field and development is rapid. The agreement must be seen in the context of the of the project that CAA Norway and Avinor are carrying out jointly, for the Ministry of Transport and Communications, to develop electric aircraft in civil aviation.
Comprehensive agreement
The agreement covers technology, the regulatory framework and other preparations for phasing in electric passenger planes. The agreement aims to deliver results in the following areas.
Prepare for the development, testing and approval of new technology for both aircraft and infrastructure
Develop an arena for innovation, which will encourage collaborative activity
Contribute to quicker regulatory change in areas of aviation, as the technology develops and matures
Facilitate cooperation in research and development
Support and guide developers of new technology and concepts in selected areas
Identify and disseminate information about financial instruments and incentives for collaborating parties
Identify potential hurdles that may impede development
Study and report on the effects and consequences of electric aircraft for the whole aviation system, including the consequences for infrastructure, expertise development and training, airspace management and new route structures etc.
During the autumn a specific, joint programme will be developed to establish objectives, resources and action plans.
Leading in several areas
"Domestic air traffic is an important part of the transport offer in Norway and it functions almost as public transport in many parts of the country," says Transport Minister Jon Georg Dale.
"Our extensive network of airports makes Norway ideal for phasing in new aviation technology and we are already leaders in several areas. The Government wants to lay the foundations for developments that can make even more future-oriented air transport a reality. It is very pleasing that EASA and CAA Norway have now entered into an agreement that puts Norway at the cutting edge of the electrification of aviation. I believe we have a great deal to offer," says the Transport Minister.
Safe flying for everyone
CAA Norway is the national aviation authority and through its work it creates the framework for safe flying for everyone. During all new development, safety will be CAA's highest priority. "It is challenging for a regulatory body to be involved in innovation and development alongside its normal work, so agreements like this are important. We need good fora for identifying and responding to challenges. A better and closer dialogue along the way can help us to understand one another's challenges, be they in supervisory bodies, manufacturers, central government authorities or other players in the aviation industry, to name but a few," says CAA Norway's General Director.