Temporary suspension for all Boeing 737-8/9 Max operations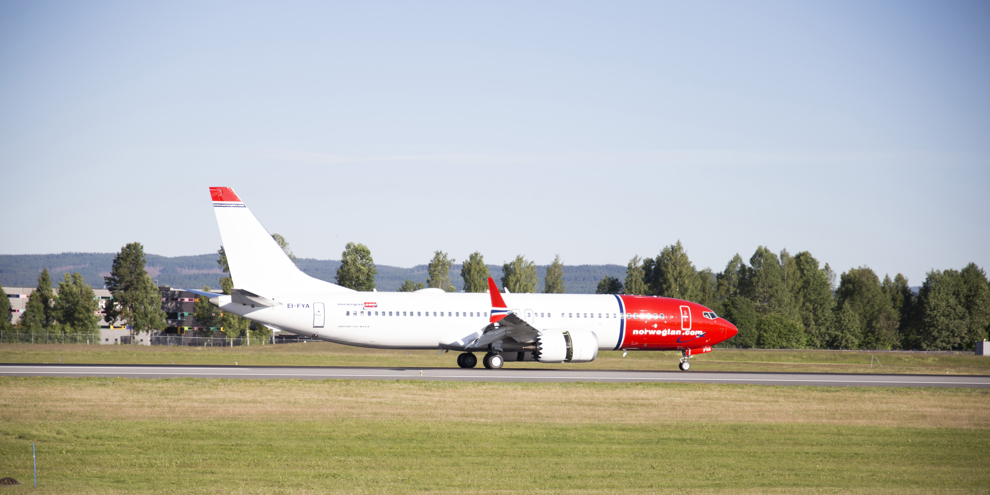 Sunday, March 10, 2019, an Ethiopian Airlines plane crashed in Ethiopia shortly after departure. The same aircraft type Boeing 737-8 Max was also involved in a plane crash with Lion Air, October 29, 2018 in Indonesia. The Norwegian Civil Aviation Authority's thoughts go to the victims' relatives and the airlines involved. This article will be updated continuously.
As a member of EASA, Norway and the Norwegian Civil Aviation Authority follow European regulations and orders. As a precautionary measure, EASA decided on March 12 to launch a temporary flight ban on the Boeing 737-8/9 Max aircraft type. EASA's suspension will also apply in Norway. The flight ban will also apply to operators outside Europe who wish to fly in European airspace. The Norwegian Civil Aviation Authority has continuously assessed all information related to the accidents. The Norwegian Civil Aviation Authority has been in regular dialogue with EASA and other European aviation authorities, and has found it right to follow EASA's assessments in the case. This is according to normal practice.
Many inquiries
Due to the large number of inquiries we are unable to answer all of them consecutively. We aim to keep this page updated with the latest information as soon as possible.
USA and Boeing grounded all Boeing 737-8/9 Max
Wednesday March 13 2019, also FAA grounded all Boeing 737-8/9 Max operations by U.S. certified operators and prohibited them from flying in the territory of the United States. In addition, Boeing published a recommendation to temporarily suspend flights with 737-8/9 Max. As a result of that, the aircraft type is grounded so to speak all over the world. This has no consequences for the situation in Europe, since EASA introduced a temporary flight ban for the aircraft type already on Tuesday March 12. FAA's order of prohibition is based on the fact that they have received new information that indicates some similarities betweenthe accidents, and they consider it to be safer to keep the aircraft on the ground until they receive further information. Accident investigations of both accidents continue, to find the causes of the accidents.
About EASAs suspension
EASAs suspension of operations with Boeing 737-8/8 Max was issued at around 18:00 UTC+1 (Norwegian time), and became effective from 19:00 UTC (20:00 UTC+1 Norwegian time). It applies to all airlines in countries associated with EASA, and for operators from outside of Europe that wish to fly to or from Europe. Flights passing through European airspace without take-off or landings in countries associated with EASA, will be possible.
EASAs suspension remains in place until further notice. It is too early to say what a clarification will consist of. Currently, the causes of the aircraft accidents are not known and EASA introduced the temporary flight ban on a precautionary basis.
In its airworthiness directive, EASA writes that:
it cannot be excluded that similar causes may have contributed to both events, with Boeing 737-8/9 Max.
EASA considers that further actions may be necessary to ensure the continued airworthiness of the two affected models.
EASA has decided to suspend all flight operations of the two affected models pending the availability of more information.


Looking forward
Now that both FAA and EASA have introduced a flight ban for Boeing 737-8/9 Max and the aircraft type practically is not being used for passenger transport until further notice, many are affected by cancellations and delays. There are therefore many who ask how long this situation will last and what is needed for the ban to be lifted.
First and foremost, the accident investigations must lead to the causes of the accidents and there must be taken measures to prevent the same type of accident from happening again. After that, Boeing may revoke its recommendation to put the aircraft on the ground and then the FAA, EASA and other countries' authorities will have to consider whether to lift their flight bans. Since Boeing is a U.S. company, it is the FAA that has approved the aircraft type. Any new information about lifting the flight ban will thus come from the FAA. Usually, EASA (and thus Norway) will do the same.
EASA has a close dialogue with the FAA and is closely monitoring their assessments of the aircraft's airworthiness. If and when EASA decides to lift the air ban, this will also apply in Norway. CAA Norway cannot answer any questions as to if or when EASA will do so. EASAs considerations depend on the availablity of information, for example preliminary accident investigation reports, information from FAA, Boeing and other authorities.